If your business has poor connectivity, it's highly likely that it's affecting your employee productivity levels. In turn, this could be having a huge detrimental effect on your ability to provide excellent customer service.
With more office and home-based employees using data-intensive applications, smart devices and video calls, your business is increasingly dependent on fast, secure and reliable connectivity.
Upgrade hardware or move to the cloud?
If your business has reached the point that you need to invest in new hardware such as servers, routers or switches, we are happy to help. We work with numerous high-profile suppliers to find the best hardware based on the individual requirements of our clients. In addition, whilst the obvious answer five years ago might have been to upgrade hardware, perhaps moving to the Cloud may be the better option for your business? 
How do you know what is best for you and the right time to do it? That's where the inTEC team can help. We can review your hardware compatibility, reliability, serviceability and performance and advise on whether a simple hardware upgrade is needed or if the smarter option is to move to the Cloud. Either way, there's no hard sell.
Finding the Right Package for your Business
With more office and home-based employees using data-intensive applications, smart devices and video calls, your business is increasingly dependent on fast, secure and reliable connectivity.
Here at inTEC, we offer all types of connectivity a modern business requires, including broadband and 5G. Choosing the right broadband package for your business can be confusing.
There are so many different types of broadband packages available, and lots of jargon used to describe these packages.
We're here to help you cut through the noise and understand more about which business broadband solution will fit with your requirements, and help you make an informed choice about what's on offer.
The four most common types of fixed-line broadband are ADSL, FTTC, FTTP and leased lines.
ADSL (Asymmetric Digital Subscriber Line) is the most commonly available type of broadband, delivered through the copper wires of your phone line. ADSL1 is capable of a maximum speed of about 8Mbit/s, and ADSL2+ a maximum speed of about 24Mbit/s. However, the broadband speeds via both types of ADSL will depend on how far you live from your telephone exchange – the further away you are, the lower the speeds and the actual speeds you receive will typically be much lower than the maximum speeds shown above.

With fibre-to-the-cabinet, fibre optic cables run from the telephone exchange to street cabinets before using standard copper telephone wires to connect to homes and businesses. Most fibre connections in the UK are fibre-to-the-cabinet services, and are typically sold as offering speeds of 'up to' 38Mbit/s or 76Mbit/s.

Fibre-to-the-premises broadband – which, as the name suggests, involves fibre optic cables running directly to your home or business – is faster than fibre-to-the-cabinet but currently only constitutes a minority of broadband connections. Fibre-to-the-premises broadband services can offer speeds of up to 1Gbit/s (i.e. 1,000Mbit/s).

Leased lines: a leased line is by far the fastest, most reliable form of broadband connectivity available to businesses. Using a totally dedicated fibre broadband connection, your business receives reliable and hyper fast internet connectivity. Leased lines are a full fibre connection. This means that you have a dedicated fibre broadband line that runs from your premises, right to the nearest available fibre broadband connection. Unlike other forms of business broadband (such as FTTP & FTTC as below), leased lines are not shared between multiple premises. This means that your broadband speeds will not be impeded by 'peak time' usage.

5G connectivity
As a longstanding approved partner of Vodafone, we have expertise when it comes to all things 5G.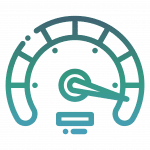 Speed
5G is up to ten times faster than 4G, making it possible for every aspect of your business to move more efficiently.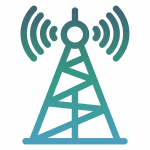 Latency
With as little as 1 millisecond latency (vs. 50ms for 4G). 5G delivers instant connectivity that lets you do what you do in real time.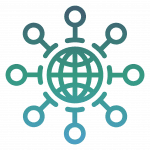 Capicity
5G connects up to one million devices per km2, ensuring you can work smarter with more connected devices than ever before.
Reliability
Enjoy a more consistent user experience on your wireless technology with uninterrupted data usage and download speeds.
5G isn't just useful when 'on the move'. It offers connectivity from anywhere as a failover internet solution for many businesses.
If keeping your business online is essential for it to run successfully, then internet failover is necessary for your business. Think about all the systems used in your organisation that require an internet connection; cloud computing systems, VPN's, firewalls, video conferencing, research and communicating with your customers via email or VoiP.
If your primary internet connection experiences downtime it could cost your business thousands of pounds. Not to mention the huge negative impact on your customers.
Connectivity is an investment that has the power to build better connections with your employees, suppliers and customers, so it's worth taking the time to understand not only what types of connectivity are out there but what your business needs.
If you are unsure which type of connection you have or which you require, we can help. We'll talk you through your connectivity options and give you impartial, helpful advice about the key benefits of each. We have access to all major carriers at great prices.