inTEC GROUP Conference | 6th May 2022
On Friday 6th May 2022, 80 team members from across multiple inTEC office locations met at Old Trafford for our Summer Conference: inVOLVE!
After two previous attempts to gather together were thwarted by Covid – it was finally time for many of us to meet face-to-face for the first time in years. What a great evening!
The Conference kicked off with our People & Culture Director, Kate Wood, who introduced an interactive exercise in which staff were asked to answer 'What makes a great team?' Brilliant responses from everyone: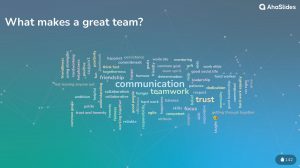 Next, Simon Howitt, inTEC GROUP CEO & Chairman, talked about what it means to be a customer and team member of inTEC. Ray Bell, inTEC's CTO followed-up with a review of our current Solutions Portfolio.
After a Discussion Panel, we all participated in a Group Workshop where we talked about the role each of us can play in helping achieve inTEC's goals.
The evening continued with drinks, a buffet and a bit of a boogie!
Time to plan our next event…